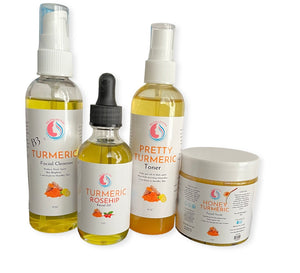 1. 3oz Honey and Turmeric soap bar help with Soothes inflammation heals acne scarring, moisturizes dry skin fade old , dark spots, and even skin tone.


2. To Use: 1 to 2 times daily cleansing face apply a small amount of Turmeric Honey Facial Scrub in the palm of your hands and motion begin to gently scrubbing your face using circular motion.
3. This amazing toner to speed up dark spot challenges, also known as Vitamin B3 is know to promote healthy skin by creating a new ceramide (lipid barrier), therefore promoting healthier skin. It also helps with the bumps caused by pimple break-outs. Turmeric helps fight dark spots as well and Licorice root.
4. Facial Oil can be used in the mornings or evenings, depending on your preference. They should be used on clean, bare skin after a toner (if you use one) before moisturizer or sunscreen.
Shelf life: 12 month