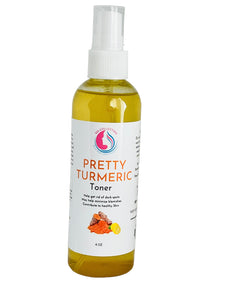 This amazing toner to speed up dark spot challenges, also known as Vitamin B3 is know to promote healthy skin by creating a new ceramide (lipid barrier), therefore promoting healthier skin. It also helps with the bumps caused by pimple break-outs. Turmeric helps fight dark spots as well and Licorice root. 
Contribute to healthy skin.
Is an essential nutrient.
Builds Keratin Naturally
Ingredients: Organic Aloe Vera Juice, Niacinamide (Vitamin B3), Turmeric, Kosher Vegetable Glycerin, Licorice Root Extract, Ethylhexylglycerin, Phenoxyethanol, lemon essential.
Shelf life: 12 months